Database Request & View Health Certificates
To access the MT Seed Potato Certification Database please login here.
In order to use the database, you will need an administrator to provide access via email. To request access, please contact your MT Seed Potato Certification Staff.
Tutorial Video - Requesting Health Certificates.
Please watch the video on how to Initiate a Health Certificate request and View Health Certificates.
Finished with the Video?
Please navigate to other instructional videos covering the introduction and editing user information, querying and reports, and seed lot registration.
Still have Questions?
To schedule an online training session with one of our MSU Seed Certification Staff Members, please email Potatocert@montana.edu
Initiate Health Certificate Request
Here are some short instructions on how to initiate a health certificate request.
1. Click Main Menu > Request Certificates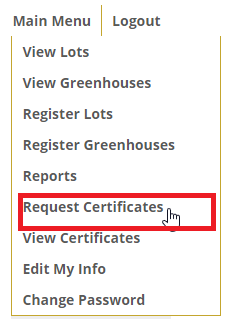 2. This will take you to the Health Certificate Request page. Select the Crop Year for the seed lots that you would like Health Certificates for. The Show all generations box, when checked will display nuclear and G1 seed lots as well. Use the arrow keys to move lots from the All Lots (left column) to the Requested Lots column (right column). When you are finished choosing seed lots, click Submit Requests.

3. When Health Certificates have been examined and signed off by the Laboratory Manager and Certification Director, they will appear in the View Certificates page. to navigate to this page click Main Menu > View Certificates.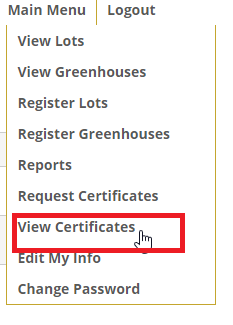 4. This will take you to the Approved Health Certificates Page. Using the check box on the left, you can select which Health Certificates to Print. To print a Health Certificate, click Print Selected. To view a Health Certificate in the web browser, click View.