Certification Database - Queries and Reports
Queries and Reports
To access the MT Seed Potato Certification Database please login here.
In order to use the database, you will need an administrator to provide access via email. To request access, please contact your MT Seed Potato Certification Staff.
Tutorial Video - Queries and Reports
Please watch the video on how to query information and examine informative reports.
Finished with the Video?
Please navigate to other instructional videos covering editing user information, seed lot registration, and requesting health certificates.
Querying Data and Filtering - Instructions
1. To view information about your lots, click Main Menu > View Lots.

Click on the business name of the farm lets you view the lots you wish to examine. The grid used to display these lots allow you to filter them by column values by clicking on the funnel icon in each column header.

When you click on the filter icon, a menu will be shown which allows you to choose search methods appropriate to the data type and an input field which allows you to enter the value you are searching for. To view inspection and lab test results click on the "Details" button associated with a lot. This will take you to a page which shows the lot information and the inspection and lab test results.
3. To view the inspection results click on the small triangle at the left of each inspection. This expands the inspection so that you can see the results for each disease inspected for.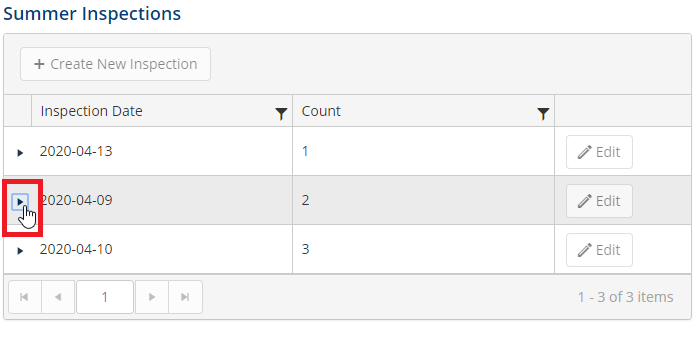 As information about a lot cannot be edited once a lot has been registered, contact the certification program if you need to change information about a lot.
Reports
To access the Reports page click Main Menu > Reports.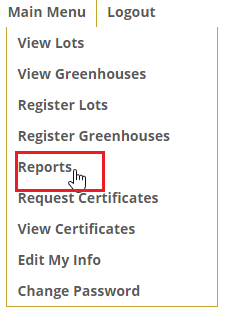 Clicking on the Reports item in the main menu will take you to a page which makes a variety of reports available. The grower summaries will provide summaries of your plantings and the field index provides a list of all the lots you have registered with the certification program. The inspection and lab results allow you to view all of your lab and inspection results. The diseased lots report will inform you of any lots which are outside of tolerances for their generation.
To print any given report, please click on the Printer Icon within the PDF generated.