Certification Database - Introduction
To access the MT Seed Potato Certification Database please login here.
The MT Seed Potato Certification Database enables growers to:
Register Seed Lots Online
Conduct Informative Queries
View Inspection and Lab Testing Results
Request and View Health Certificates
In order to use the database, you will need an administrator to provide access via email. To request access, please contact your MT Seed Potato Certification Staff.
Tutorial Video - Introduction & Editing User Information
Please watch the video on how to log into your account and access your user information.
Finished with the Video?
Please navigate to other instructional videos covering seed lot registration, querying and reports, and requesting health certificates.
Still have Questions?
To schedule an online training session with one of our MSU Seed Certification Staff Members, please email Potatocert@montana.edu
Login to Your Account and Edit User Information - Instructions
Open an internet browser (Chrome, Mozilla Firefox, or Safari) and enter https://seedpotato.montana.edu into the address bar. Using your cursor, click on the Login icon at the top right corner of your screen.

Click on the Forgot my password or first time visitor? hyperlink and enter your email associated with your account. Click Email Link to send an email containing a hyperlink and instructions on setting up your password.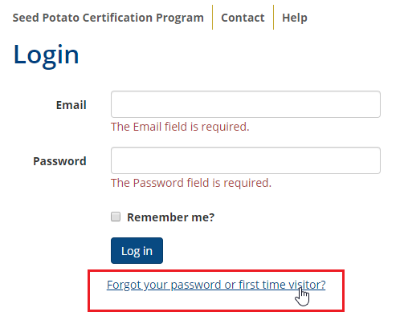 2. Once your password has been established, return to https://seedpotato.montana.edu and login using your credentials.
3. Using your cursor, navigate to the Main Menu dropdown list at the upper right portion of your screen and click Main Menu > Edit my Info.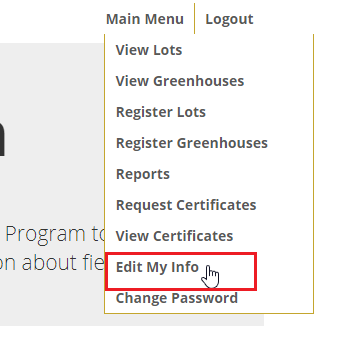 4. Verify the accuracy of the information and edit if necessary. Once finished, click Save at the bottom of the screen.